Bike Village – Sion – Place de la Planta
Friday, August 19, 2022
The bib picking for all runners and departures will take place on Friday 19 August in the city centre of Sion, in the Place de la Planta, from 11am to 7pm.
The organising committee strongly recommends that you carry out your technical inspection at our various Grand Raid BCVS partner shops. Liste Check Point Partner.
Mechanics will still be available on site for people who have not had the opportunity to have their bikes checked before.
Festive and friendly, a village of exhibitors is presented to you throughout the day with various activities and catering.
Accès to Parking Stade de Tourbillon
Exit Sion East and follow the signs "Grand Raid BCVS"
Adress: Rue des Echutes 40, 1950 Sion
Route from the Tourbillon stadium to the Place de la Planta
is about 10′ by bike or foot.
Follow the sign Grand Raid BCVS
The Raidy Coop
From 5:30 pm, the children's race (4 to 15 years old) will take place the Raidy!
They will have the opportunity to challenge each other on a new course in the city centre of Sion.
Registration can be done online via the Datasport website.
Or the same day on the Place de la Planta, from 11:00 am at the Grand Raid Race BCVS Office.
Register now and you will receive a great bike jersey and lots of other little gifts!
Price: 15.- CHF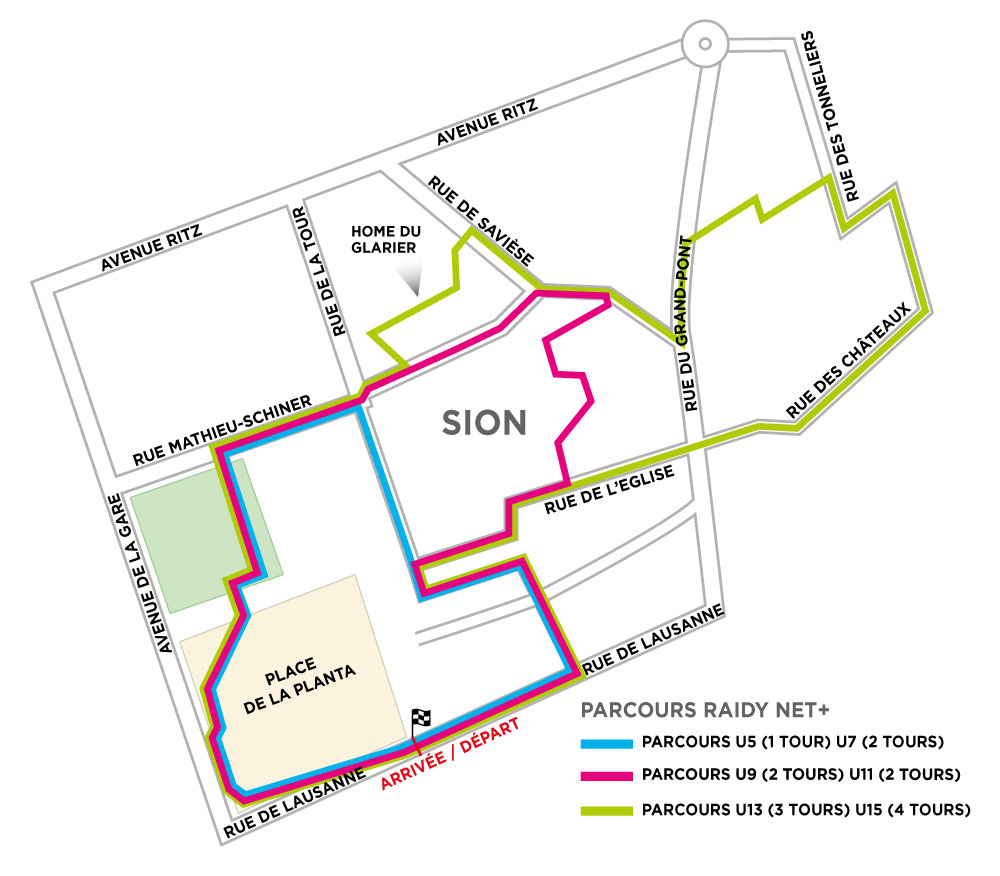 NEW 2022!
The Raidy Coop changes its course for youngsters from 14 years old!
The race for the Mega U15 category ( 2008-2009) and the Rock U13 category ( 2010 -2011) is changing location and changing day!
More attractive, more fun, more fun….discover a brand new course for young people starting in Vercorin!
Route: Departure from Vercorin (Creux du Lavioz) – Arrival in Grimentz – 16 km – +-500m ascent.
Date: Saturday 20 August 2022 – 9:45 am
Registration only online on Datasport (Child's name account).